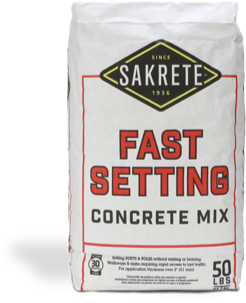 Faster
Setting
Walk on slabs in 6 hours
Less
Prep
Set poles without bracing
More
Jobs
Finish more jobs per month
Leave 'em


in the dust

Do more in a day and complete more jobs per month. Sakrete Fast Setting Concrete Mix helps eliminate extra steps, trips and time from the job. So while the other guys are going back to finish the last job, you're moving on to what's next.
Save time on any concrete job
See how many fences you could finish
What is the cost of the fences you typically install?
$
/ linear foot
How large is your average fence installation project?
150 linear feet
How long does it take your team to finish a fence?
Number of jobs per month
High-Strength Concrete
11
More time equals more jobs!
Additional Revenue with Fast Setting: